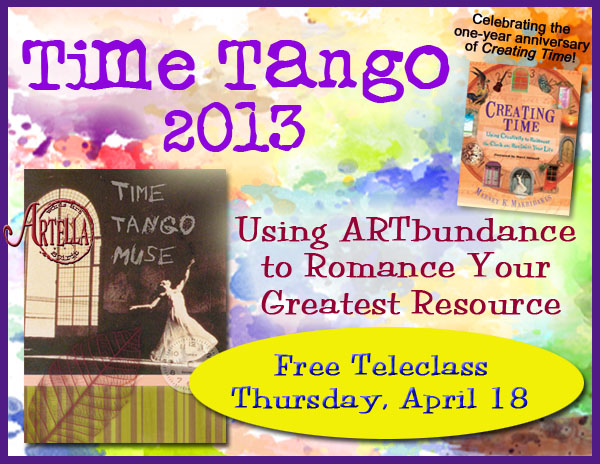 Time Tango 2013:
Using ARTbundance to Romance Your Greatest Resource
Celebrating the 1 year anniversary of the Creating Time Mega Event!

Free Teleclass by ARTbundance™ Founder Marney Makridakis
was held on Thursday, April 18, 2013

You can enjoy a FREE virtual celebration experience, and download the recording and accompanying workbook at your leisure! Keep reading to request the download links!


---
A message from Marney Makridakis, founder of Artella Land, ARTbundance™, and author of the bestselling book, Creating Time:
In April 2012, thousands of people and dozens of creative leaders got together for The Creating Time Mega Event !

Together, we co-created a powerful community dedicated to exploring a new vision of time.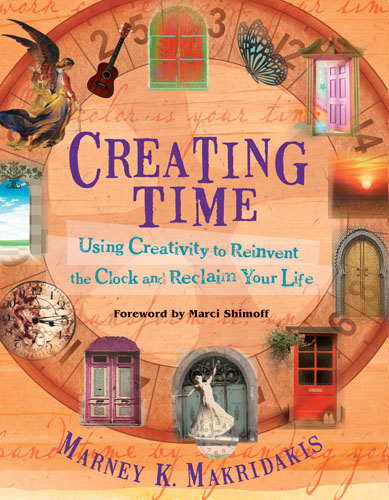 To celebrate the one-year anniversary of The Creating Time Mega Event and the launch of the #1 Amazon Bestseller Creating Time, I invite you to "Time Tango 2013": a fun, free teleclass, which was held on Thursday April 18, to help you use your creativity to find even more ways to dance with time!


Do you wish you had more time to do the things you love?


Do you want to have a better relationship with time?


Do you get the sense that time is holding you back?


Do you blame time for keeping you from your creative dreams?


"Time Tango 2013" is here to help!



Bring your favorite art supplies and get ready to shift some energy to create more time and meaning in your life!

Whether your biggest problem with time is that you are too busy or that you are too bored, it all comes down to the same issue: feeling like time is not on your side, and you're always on the losing end of the fight against time.

In "Time Tango 2013", you will learn the keys to your own personal "Tango Tenacity" as you are guided to use ARTsignments™ to dance with time in a whole new way. ARTsignments™ are self-discovery exercises infused with creativity that help us break away from logical, linear thinking, and creatively court new solutions, ideas, and awareness.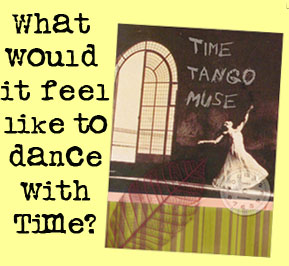 Tango with Your "Partner in Time" took place on Thursday, April 18. In this fun, free teleclass, you will:
Use doodling and spontaneous poetry to play with your current beliefs about time


Discover your "Tango Tenacity": your own personal key for dancing with life's challenges


Apply your new tools to a create an artsy "Time Muse" to help you forge an ongoing, supportive relationship with time.


All participants will also receive a fun, follow-up workbook with more fun exercises and ideas to use creativity to shift challenges.


For those also interested in hearing more about the Spring 2013 ARTbundance™ Certification Training Program (ACT 9), you can join us for a fun Bonus Tango Time gathering after the call! :-) You'll hear directly from actual ACT graduates, get full details about applying ACT 9, and do more fun doodle-dancing to explore if ACT is the right match for your wildest dreams.


No special art skills/experience necessary! Bring your favorite art supplies, as you'll be using them as you dive into your intuitive wisdom to find practical solutions and insights. You can bring whatever supplies you want to use…collage materials, paints and paintbrushes, or simply markers and paper, etc.



To download the recording of this special one-year anniversary celebration and the workbook, simply request them below!


---
"True vocation is that work in which the world's deep hunger and our deep gladness meet." – Frederick Buechner

Questions? Contact us here!


Back to top