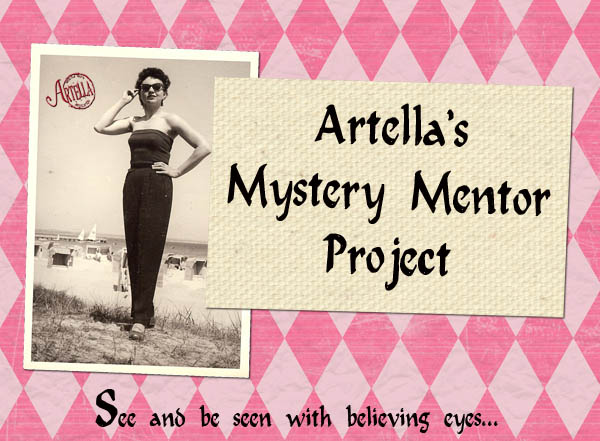 Introducing Artella's First Annual Mystery Mentor Project!

The Sign-Ups for this year are now closed. Thank you for your interest, and we hope you will participate next year!




Those of you who have been around Artella for a while will remember our Annual "Mystery Muse" Project, where for several years, we coordinated our own artistic alternative to "Secret Santas". This year, to celebrate our upcoming ARTbundance™ MENTORing and INVENTORing Network (M.A.I.N.) which is beginning in January, I invite you to join in our Mystery Mentor Project!

I love the words that Sonia Choquette uses to describe the role that Julia Cameron played in her life; she said she looked at her with "believing eyes". We ALL need someone to look at us and our dreams with "believing eyes"!

This affirming reflection can occur in even the most unexpected places. In this way, we all can receive mentorship and support for our dreams, and offer the same for others.

You are invited to participate in Artella's First Annual Mystery Mentor Project! There's absolutely no cost, other than your postage to mail a letter or gifty to your assigned Mentee (and when you do, you even receive a li'l bonus gift from Artella in return!) So it's completely free to participate, and is simply a fun way to start the new year with positive, supportive energy.

Please feel free to invite others to participate as well, by sending them the link to this page!

Here's how it works:

1. To participate in the Mystery Mentor Project, simply fill out the form below. We will accept sign-ups through December 22, 2010.

2. By December 30, you will receive an email with information about your "Mentee": her name, email and mailing addresses, and her vision/dream for 2011.

3. Your commitment is to contact your Mentee at least three times during the month of January - simply offering "believing eyes" for his or her dream. You will also receive 3 messages from YOUR Mentor, with encouragement and affirmation for your vision, as well.

We ask that at least one of these contacts will be through postal mail, where you send some small physical token to inspire your Mentee. This could be something like...
a handwritten note, where you tell your Mentee that you believe in her dream!
an ATC or other small piece of art that you create to represent your Mentee's dream
a meaningful quote, handwritten on a decorated piece of paper
a card you make for your Mentee and her dream
Or any other small project that is easy for you to carry out...the idea is simply to give your Mentee something that she can hold in her hand to represent her dream...and your belief in it!
As an extra incentive, when you notify us that you've sent out your "snail mail message" - you'll get a free gifty from Artella, just to thank you for keeping your commitment to your Mentee!

For your other two messages, you can feel free to use either postal mail or email. If you contact your Mentee by email, you might...
send a quick note of belief and encouragement
send a quote or two that is related to her dream
send links to a Web page or video that might inspire her
email an image that connects to her dream
Or any other way you might think of to inspire her through email, and let her know that YOU believe in her dream!




Remember all three contacts must be made between January 1 and January 31, 2011. Please only sign up if you are willing and able to keep this commitment to your Mentee!

There's absolutely no cost, other than your postage to mail a letter or gifty to your assigned Mentee (and when you do, you even receive a li'l bonus gift from Artella in return!) So it's completely free to participate, and is simply a fun way to start the new year with positive, supportive energy.

If you have any questions,
please contact our Mystery Mentor Coordinator.

Please feel free to invite others to participate as well, by sending them the link to this page!

The Sign-Ups for this year are now closed. Thank you for your interest, and we hope you will participate next year!



Frequently Asked Questions:



Q: Am I supposed to keep my identity a "mystery"?

A: The "mystery" element of the Mystery Mentor Project has more to do with the mysterious nature of serendipity than it has to do with personal anonymity. You are welcome to keep your identity somewhat secretive, if you like (insofar as you are able, via email) but being "mysterious" is definitely not necessary for the project to be a success.

Q: How should I get started?

A: To get started, we suggest you go ahead and contact your Mentee via email, introduce yourself, and offer your first words of encouragement and belief in your Mentee's dream!

Q: Are there any specific instructions I need to follow when emailing my Mentee?

A: When contacting your Mentee by email, we suggest that you put something about "Mystery Mentor" in the Subject line, so they will know to open the message from you. (For example..."A message from your Mystery Mentor!") On the recipient end, you also might want to check your junk mail folders more regularly, to look for a message from your Mentor.

Q: How many times am I supposed to connect with my Mentee?

A: Your commitment is to contact your Mentee at least 3 times during the month of January - simply offering "believing eyes" for his or her dream. We ask that at least one of these contacts will be through postal mail, where you send some small physical token to inspire your Mentee. If for any reason you are NOT able to keep this commitment, please contact our Mystery Muse Coordinator at jennifer@artellaland.com as soon as possible, so that we can assign your Mentee to someone else.

Q: My Mentee's Vision or Dream for 2011 was cut off in my notification email. What should I do?

A: The system only captured the first 100 characters of your Mentee's Vision or Dream. If it is incomplete, we suggest that you make contact by email, and ask him or her to clarify or complete the vision or dream.

Q: My Mentee's address is incomplete or unclear.

A: If you have questions about your Mentee's mailing address, please send an email, asking to clarify. If the email address you received for your Mentee is not working, please contact Jennifer for help.

Q: I'm not sure what I should send my Mentee...do you have any suggestions?

A: Yes! You can take a look at our list of suggestions on this page: http://www.artellaland.com/MysteryMentorSignup.html Remember that these suggestions are just starting points, so please feel free to come up with your own new ideas, as well!

Q: How do I get my free gifty when I mail out my "snail mail message"?

A: As an extra incentive, when you notify us that you've sent out your "snail mail message" - you'll get a free gifty from Artella, just to thank you for keeping your commitment to your Mentee! We've set this gift up on an honor system basis: simply send a blank message to to mm-gift@aweber.com and you'll receive a free gifty from us!

Q: I have a question that is not answered here.

A: If you have any questions, please contact Jennifer, our Mystery Mentor Coordinator, at jennifer@artellaland.com.

Back to Artella Land home